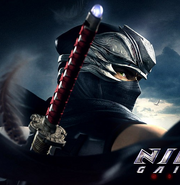 Naruto: Path of the Dragon Shinobi
is the Crossover of Naruto and Ninja Gaiden/D.O.A. Authored by Czar Joseph in Fanfiction.net.
This story is being inspired by Namikaze09 and this story itself is rewrite version.
Information
Edit
'Naruto: Path of the Dragon Shinobi' Written by Czar Joseph and begun online publication on Feb 28, 2015.
Author: Czar Joseph
Language(s): English
First Published: Feburary 28, 2015
Current Status: Soon
Poll: Rewrite and revised story. Naruto is saved from a mob by Joe Hayabusa who recognizes the red dragon symbol on the boy and takes him away from Konoha and back to the Hayabusa Village where he and Ryu prepare take on the evil that threatens their world. Extra Summary Inside in Ch.1. Got Permission from Namikaze09.
:Extra Summary status:
There will be a Sasuke/Elder/Civilian Council Bashing minus Haruno. CoD series weapons. Ninja Blade Style.
Good Female Kurama, the Kyūbi no Kitsune. And go by name Kurumi. Just like Steel Angel Kurumi like my first story.
Main Characters
Edit
[Naruto U., Sakura H., Ayane, Momiji, Kasumi, Rias G.,]
[Ryu H., Tsuki U., Rachel, Kureha, Irene (Sonia), Shizuka,]
Jinchūriki sibling bond like Yugito, Fū,
Good Female Kurama, the Kyūbi no Kitsune; Kurumi, Older sister.
 :Pair in Choices:
Edit
Noted: Naruto x Harem and Ryu x Harem
Total of Girls: 5
Naruto ♥ Sakura x Ayane x Momiji x Kasumi x Rias (OC; from DxD).
Ryu ♥ Tsuki U. (OC) x Kureha x Rachel x Irene 'Sonia' x Shizuka.
Hayate ♥ Ino x Hinata x Hitomi (From DOA) x ?
This story will be inspired with "Do The Roar2012"? I let Naruto adopted Fū as a adopted sister, since Jinchūrikis and Bijūs were treated like siblings. Created by Hagoromo Ōtsutsuki, the Sage of the Six Path.
Characters
Edit
See Also
Edit
Characters - from Naruto: Path of the Dragon Shinobi.
Weapons - from Naruto: Path of the Dragon Shinobi.
Character Techniques' List - from Naruto: Path of the Dragon Shinobi.
Fan-based Ninjutsu - from Naruto: Path of the Dragon Shinobi.
Character Information 3
Eternal Links
Edit